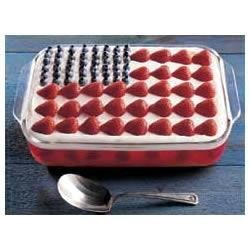 ingredients
1 quart strawberries, divided
1 1/2 cup boiling water
2 packages (4-serving size each) gelatin, any red flavor
ice cubes
1 cup cold water
1 package (12 oz. size) pound cake, cut into 10 slices
1 1/3 cup blueberries, divided
2 packages (8 ounce size) cream cheese, softened
1/4 cup sugar
1 tub (8 ounce size) cool whip frozen whipped topping, thawed
directions
Slice 1/4th of the strawberries; set aside. Halve remaining strawberries; set aside.
Stir boiling water into gelatin in large bowl at least 2 minutes until completely dissolved. Add enough ice cubes to cold water to measure 2 cups. Add to gelatin; stir until ice is melted. Refrigerate 5 minutes or until slightly thickened (consistency of unbeaten egg whites).
Meanwhile, line bottom of 13x9-inch dish with cake slices. Add sliced strawberries and 1 cup of the blueberries to thickened gelatin; stir gently. Spoon over cake slices. Refrigerate 4 hours or until firm.
Beat cream cheese and sugar with wire whisk or electric mixer until well blended; stir in whipped topping. Spread over gelatin. Arrange strawberry halves on cream cheese mixture for "stripes" of flag.